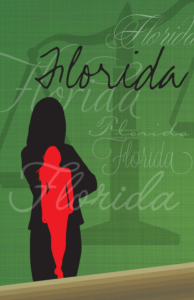 A name you can dance to, not a name you can trust.
Saturday, April 7 at 8 p.m.
Sunday, April 8 at 2 p.m.
Friday, April 13 at 8 p.m.
Saturday, April 14 at 8 p.m.

Tickets are $42 Regular/$39 Seniors and Students
General Admission

Or call Atlas' box office at (202) 399-7993 ext. 2
Subscribe to our Atlas Season! Purchase tickets for only $37 per ticket and ONE convenience fee for your subscription – just click below!
110 minutes long including one intermission; an audience talk-back will follow each performance.
UrbanArias' production of Florida is sponsored by a very generous gift from the Ted and Mary Jo Shen Charitable Gift Fund.
Parental Advisory: Florida contains mature references, and may not be suitable for young children.
Conducted by Robert Wood
Directed by Kevin Newbury
Click the link menu below for more information:
Based on true events, Florida is a darkly comic opera about a teenage girl falsely accused of matricide. A highly-stylized vision of suburbia set to a jazz-inflected score, the opera follows its hero, Florida Fandango, through a maze of gossip, desire, justice and lipstick.
Florida lives with her mother and next door to her boyfriend Marc – but she is restless, and looks forward to the romantic and sexual opportunities a summer away from home might bring. Jealous, Marc kills her mother in a bid to possess Florida, and both are brought to trial – she as a conspirator. Their neighbors, the gossipy Redwoods, play judge, bailiff, jury, and press. After the trial, Florida attempts to move on – and finds that is harder than she had hoped.
Florida examines how different people foster, embrace, and rebel against the claustrophobia of contemporary American society, and illustrates the complexities and corruption of our legal system through a tour-de-force of rhythmic delight and vocal virtuosity.
Conductor Robert Wood founded UrbanArias in 2009. Under his guidance, the company has achieved national recognition as an innovator in the field of opera, and has given over 90 performances in Arlingon, DC, and New York City. He has conducted UrbanArias' productions of Independence Eve (Boquiren), As One (Kaminsky), The Man Who Mistook His Wife for a Hat (Nyman), After Life, Josephine, and Glory Denied (Cipullo), Before Breakfast (Pasatieri), Blue Viola and The Filthy Habit (Hilliard), Paul's Case (Spears), and Three Decembers (Heggie).
Maestro Wood made his debut with the San Francisco Opera in 2004 with Verdi's La traviata, and has also conducted L'italiana in Algeri and several concerts there.. He recently conducted Orpheus and Euridice at the Vermont Opera Project, Three Decembers at Kentucky Opera, Die Fledermaus at Hawaii Opera Theater, and Roméo et Juliette and Carmen at Opera Colorado. Maestro Wood returns to Hawaii to conduct As One with the original cast in January 2018, and will conduct the same opera at Lyric Opera of Kansas City later that month.
Mr. Wood was appointed Conductor in Residence at the Minnesota Opera from 2006-2008, leading productions of L'italiana in Algeri, Le nozze di Figaro, La donna del lago, Rusalka, and Il barbiere di Siviglia. Mr. Wood has also conducted L'italiana in Algeri at Vancouver Opera, Die Entführung aus dem Serail for Hawaii Opera Theater, The Love for Three Oranges at Indiana University Opera Theater, La cenerentola at Opera New Jersey, and The Nutcracker for San Francisco Ballet. Mr. Wood's collaborations with the Wolf Trap Opera Company include Le Comte Ory and Die Zauberflöte.
Kevin Newbury is a theatre, opera, film and event director based in New York City. Kevin has directed over sixty original productions and his work has been presented by many opera companies, festivals and symphonies including the Park Avenue Armory, Carnegie Hall, The Kennedy Center, San Francisco Opera, Lyric Opera of Chicago, Houston Grand Opera, The Santa Fe Opera, Barcelona Liceu, Opera Theatre of St. Louis, Minnesota Opera, The San Francisco Symphony, L'Opera de Montreal, The Prototype Festival, Urban Arias (DC), Bard Summerscape, Portland Opera, Opera Philadelphia, Philadelphia Orchestra, Seattle Opera, Glimmerglass Opera, Cincinnati Opera, The Virginia Arts Festival and The Wexford Festival in Ireland, among many others.
Kevin is especially committed to developing and directing new work.  He has directed over two dozen world premiere operas and plays, many of which were subsequently published or recorded.  Recent world premiere highlights include Spears/Pierce's FELLOW TRAVELERS (Cincinnati Opera, New York Times Best of 2016), Todd Almond's KANSAS CITY CHOIR BOY (starring Almond and Courtney Love, seen at Prototype/NYC, American Repertory Theatre/Boston, CTG/LA, Arscht/Maimi), Spears/Vavrek's O COLUMBIA (Houston Grand Opera), Puts/Campbell's THE MANCHURIAN CANDIDATE and Cuomo/Shanley's DOUBT (Minnesota Opera), and Lopez/Cruz's BEL CANTO (Lyric Opera of Chicago, broadcast on PBS' Great Performances and recently nominated for the 2016 International Opera Awards: Best World Premiere).
Kevin's production of VIRGINIA for the Wexford opera festival won the 2010 Irish Times Theatre Award for Best New Opera Production and his production of OSCAR for Opera Philadelphia and Santa Fe Opera was nominated for Best World Premiere at the International Opera Awards in 2014.  His work has also been nominated for a Grammy Award  (BERNSTEIN'S MASS with Marin Alsop, also named "one of the best events of the year" by The New York Times and The Washington Post), a Drama Desk Award (Best Actor: Vince Gatton, CANDY & DOROTHY) and the GLAAD Media Award (Winner: CANDY & DOROTHY, Nominated KISS AND CRY).   Kevin's first two short films, MONSURA IS WAITING and STAG, have screened at a total of forty film festivals and have each won festival awards. MONSURA IS WAITING is available on iTunes and STAG will be released in late 2016.  His third, EPIPHANY V, a music video collaboration with Jimmy Lopez and David Johnson, will be released in 2017.
Randall Eng's music lies at the intersection of opera, music-theatre, and jazz. His opera Florida (with librettist Donna Di Novelli) has been excerpted and workshopped at Lyric Opera Cleveland, New York City Opera's VOX Festival, the Public Theater, and New York University, and will receive its world premiere in April 2018 at UrbanArias in Washington, DC. His opera Henry's Wife (with librettist Alexis Bernier) has been presented at the Center for Contemporary Opera, American Opera Projects, the Virginia Arts Festival, and Manhattan School of Music.
His latest opera with Donna Di Novelli is Before the Night Sky. A contemporary re-telling of the Greek myth of Castor and Pollux collided with the stories of their twin sisters Helen of Troy and Clytemnestra, Before the Night Sky will be featured at Opera America's New Works Forum in January 2017 at Town Hall.
Randall's other dramatic works include The Dangers of Electric Lighting (Luna Stage), Usher, Falling (Opera Vindaloo Festival), and the video opera The Woman in the Green Coat (Edinburgh Fringe Festival). Non-theatrical works include commissions for Albany Symphony Orchestra's Dogs of Desire, Mirror Visions Ensemble, Composer's Voice, and baritone Marcus DeLoach.
Randall is a graduate of Harvard University, Cambridge University, and NYU's Graduate Musical Theatre Writing Program, where he is a full-time faculty member and runs the GMTWP Opera Lab. He is a Staten Island native and Jeopardy! Champion; more info at www.randalleng.com
A formalist, Donna Di Novelli collaborates with artists around the world to create original work for opera and music-theater as well as for film. The Good Swimmer, a pop Requiem with music by Heidi Rodewald (Passing Strange, The Total Bent) was presented at last year's Prototype Festival of New Opera and Music-Theater produced by Beth Morrison Productions and is scheduled for presentation at the Brooklyn Academy of Music in 2018, to be directed by Kevin Newbury, opera director and frequent collaborator. Di Novelli was commissioned by the San Francisco Opera to write the libretto for Heart of a Soldier, music by Grammy-nominated composer Christopher Theofanidis which premiered in 2011. It was directed by Francesca Zambello and starred the world-renowned baritone, Thomas Hampson. She has also been commissioned by the Houston Grand Opera and Chanticleer, the San Francisco all-male vocal ensemble and by the BBC for her work in radio drama. Her latest opera Before the Night Sky with composer Randall Eng was seen in an excerpt this January at Town Hall in Manhattan as part of Opera America's New Works Forum. She was librettist on Oceanic Verses created by Paola Prestini, which premiered at the Kennedy Center and then moved to the Barbican Centre in London. As a lyricist, Di Novelli has written songs with the British composer Rachel Portman (Oscar winner/Emma soundtrack) for the musical Little House on the Prairie. Her songs have been heard at Joe's Pub on several occasions including her prayer cycle: No God but Yearning, music by David Rodwin, developed in residency at Mabou Mines. The genre-bending jazz opera, Florida with long-time collaborator Eng has the distinction of being presented in excerpt as both an opera at the New York City Opera's Vox series and as a musical at the Public Theater's New Work Now! Festival in the same season.
Her film work includes the screenplay for the award-winning short film, Stag which traveled to over a dozen film festivals, including Montreal and Toronto, Trieste and Los Angeles and winning "The Best of New York" at the NY Shorts Fest, while garnering a Gold Remi from Houston'sWorldFest in the 2014-2015 season. Stag, currently being prepared for world-wide distribution was also directed by Newbury. This summer, she co-wrote with Indie director Josephine Decker, a feature film Movie #1 starring Molly Parker and Miranda July which is currently in post-production. Decker's first films debuted at the Berlin Film Festival in 2015. Di Novelli has written text for the Los Angeles Modern Dance and Ballet Company's The Twelve Dancing Princesses presented at the Ford Amphitheater with choreography by Naomi Goldberg Haas. Public Radio International has produced her radio plays for the series Scribbling Women. Her stage play, The First Eff was excerpted and published by Heinemann Press after being chosen for the New Play Festival at the Mark Taper Forum.  She has won fellowships and honors from the Rockefeller Foundation, (a residency at Bellagio, Italy), Manhattan Theater Club Playwriting Fellowship, The National Musical Theater Conference, Residency at Sound Res, Lecce, Italy, and three fellowships at the MacDowell Colony. Moving fluidly from traditional opera to more experimental work, Di Novelli's current projects include a virtual reality piece she is working on with Decker under the auspices of the Sundance Festival.  She is a graduate of the MFA program in playwriting at Brown University having studied with Paula Vogel and the MFA program in musical theater writing at Tisch School of the Arts, NYU where she teaches libretto writing.